FLOOR CARE

FLOOR PAL: A pine scented, neutral ph floor cleaner for both damp mop and auto scrubbing applications. (Mix 80:1)
FLOURISH: A lemon scented, neutral ph floor cleaner, gloss enhancer and antiskid formula. Burnishing after "Flourish" has been used, produces very high gloss level. This product eliminates the need for high priced "gloss creams" that are applied to burnishing pads. (Mix 50:1)
DUSTBUSTER: Mop treatment available in both water and oil bases. Both products contain quaternary compounds and are safe to use on all hard floors and waxed surfaces.
SALUT: A salt, rust and calcium remover. Safe to use on all floor surfaces including carpets. (Mix 80:1)
VINEGAR: A 7% solution to be used as a floor neutralizer.
ACRYLICS/FLOOR SEALER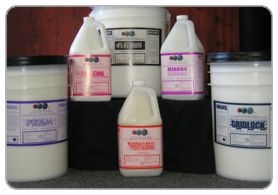 GRIDLOCK: A high gloss finish at 25% solids. Specifically designed for all high speed burnishing. Excellent gloss and wear resistance.
PLATINUM: A high gloss finish at 25% solids. Easily maintained with conventional buffers or high speed machines.
MIRAGE: A high gloss finish at 25% solids. Easily maintained with either conventional buffers or high speed burnishers.
PRISM: A high gloss finish at 18% solids. Ideal for applications requiring fast dry time. Responds well to burnishers.
FAST COAT: A low solids (15%) full acrylic finish for those areas where time and cost are minimal. Responds well to spray buffing. Economical top coat for more expensive finishes prior to buffing or burnishing.
THERMASEAL: Full acrylic, 22% solids, excellent initial gloss level. Ideal for all hard floor surfaces including concrete & asphalt. Not recommended for wood surfaces.
All acrylics are formulated with "Tritex" materials and surpass industry standards for slip resistance, water & black marking, gloss levels, removability and durability. Coverage is dependent on user and type of floor surface.
CARPETS

EXTRAK: For hot water extraction cleaning of carpets and upholstery. Herbal scented, non streaking with optical brighteners. (Mix 80:1)
EASY-OUT: Pre-treat for carpet and upholstery cleaning. Ideal for use on stains & heavy traffic areas prior to shampooing or extracting. (Mix 10:1)
TERMINATOR: A silicon defoamer for all water base detergents & soaps. (Extraction & shampooing machines, floor scrubbers, etc.)
SPARKY: An anti-static treatment for carpets and upholstery. May be used in conjunction with "Stainmiser". Use full strength. Covers 500 sq. ft. per litre.
SOLVENTS & WAX STRIPPERS
SPEEDY STRIP: Five solvents and penetrants all combined to disrupt any acrylic finish with minimal scrubbing. No offensive odour. (Mix 20:1)
BIG WAX ATTACK: The ultimate no-scrub stripper. This product is "POWERFULL" and all labeled precautions should be taken. (Mix 7:1)
ACTIVE: A general purpose cleaner and degreaser for commercial kitchens (non food prep areas) (Mix 40:1).
RESULT: A general purpose cleaner/degreaser. Formulated for spray and wipe applications. Lemon scented water-butyl glycol base. (Mix 20:1)
BIG SHOT: A heavy duty general purpose cleaner/degreaser. Excellent for commercial kitchens. (Excluding food contact areas) High ph. Sodium Hydroxide base. (Mix 20:1)
SPEED-O: A phosphoric / Citric Acid blend descaler. Used for cleaning stainless steel, bathroom soap scum, tile grouting, pipes, etc. (Mix 4:1)