KITCHENS

SUDSY: A lemon scented anti-bacterial liquid green dish detergent for all hand washing of glassware, flatware, pots pans etc.
SUDSY PINK: A pink bubbel gum scenter,economical dish washing detergent.
COOK-OUT: Griddle-fryer and oven cleaner. A 12.5% Sodium Hydroxide emulsion.
CHLOROCLEAN: A chlorinated commercial liquid dish washing detergent for use in stainless steel dishwashers.
REFLECTION: A rinse aid for commercial dish washing machines. Used in conjunction with "Chloroclean" for the effective rinsing of flatware and glassware.
KRISTAL: A household powdered dish washing detergent for automatic machines. Much higher concentration than conventional retail products. 5 Kgs 10 Kgs and 20 Kgs
CHLORINATED SANITIZER: 6% chlorine solution for sanitizing in commercial dish washing machines.
GLASS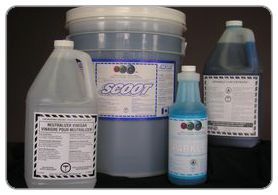 SPARKLE: An ammonia based, glass cleaner.
SPARKLE CONCENTRATE: Concentrated sparkle 30:1 sparkle glass.
VINEGAR: A neutralizing rinse for commercial use only. This is a non-consumable product.
SCOOT: Safe on most hard shiny surfaces plus vinyl - non-ammoniated.